The programme!
Theme: mediterranea
Place
Presentations/workshops & bookfair:
Bühlplatz-mensa gertrud-Woker-strasse 3,
Casa'd italia, Bühlstrasse 57
Saturday concert
: Zieglerstrasse 9
Opening hours :
Friday: 18.00–23.00
Saturday: 10.00–19.00
Sunday: 10.00–16.00 (bookfair only Fri & Sat)
Everything will be translated into French, German and English if necessary.
Friday

19.00 Exhibition : Uter
Project Uter is a huge collaborative drawing that we started as a research on stories about abortions in Spain. The image communicates people's stories about sexual and reproductive health, history related to abortion, maternity and community building, and serves as a cry of freedom to decide about our own bodies.
20.00 Book presentation : Rage de Camp
Rage de Camp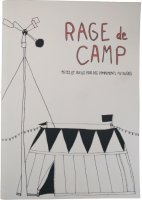 An essay, a tool, a doorstop of a book to throw in the face of this crappy system!
We've tried to reply to a couple of those thorny questions that always seem to come up when organising large-scale camps. For example: how do you manage food for several hundred people? What spaces and roles are needed for everyone to feel comfortable? Should everything be open price? And what's better: a generator or pirating an electricity line?
But that's not all, because organising a truly self-organising camp is complicated. We don't have all the answers, we haven't tried everything, and sometimes we really screwed up. That's why this book exists: to tell the story of all that.
Discussion and presentation.
21.00 concert : Manuel & Moel
Saturday
11.00 – 13.00 presentation : Notara
Notara 26
Housing Squat For Refugees and Migrants Notara 26 (Exarcheia, Athens)
One and a half year ago we squatted an empty public building in  26 Notara Str., in Athens,  to impliment a  solidarity project  towards refugees and migrants in order  to cover their immediate needs  such as shelter, food and medical help. This project doesn't stand for philanthropy, but rather as a self-organized solidarity concept, where  locals and refugees work as a decisive body deciding and resolving issues  together through an open assembly where everyone is welcome to participate.The squat can accommodate 120 people while 5.500 refugees have gone through its doors and stayed there up till now.
In this context, we will talk about:
–       Presentation and operation of Notara 26 (problems, mistakes, gains, strategies)
–       Other squats for refugees in Athens
–       Anarchists initiatives concerning migration
13.15 – 15.45 song workshop: part 1, preparation
13.30 – 15.30 presentation : A critical approach to antisexism in the anarchist milieu
A critical approach to antisexism in the anarchist milieu.
Part One: We take a brief look at the history of the feminist matter in Greece inside the anarchist's circles, the formation of the current structures and the dominant theoretical approaches of the anarchist community. Gendered violence inside the anarchist milieu is one of the main reasons behind raising the issue of Rape Culture.
Part Two: We discuss the functioning and reproduction of Rape Culture in anarchist subcultures, the depoliticisation of interpersonal violence and the non-shaped and non-recognizable oppressive structures that serve to perpetuate gender discriminations – the demand for the realization of the significant interconnections between building community and attacking systems of oppression. The need to show that and illustrate how gendered violence is a principal method of perpetuating the oppression of women in our patriarchic societies. The collective work "Betrayal – a critical analysis of the rape culture in the anarchists subcultures" will serve both as a benchmark and analytical tool in the attempt to point out that gendered violence does not occur in a social vacuum. Anarchist analysis of both power and struggle are an important tool for deconstructing the functioning of Rape Culture.
16.00 – 18.00 presentation : Local resistance to environmental exploitation
Local resistance to environmental exploitation
Panel discussion with speakers from Artvin, Turkey; Imider, Morocco and Taranto, Italy.
The residents of Artvin, a small town in the North-eastern Black Sea region in Turkey, have resisted the opening of a dangerous gold and copper mine in the Cerattepe area for more than 20 years. After years of resistance, the conflict is still ongoing. Imider is the site of the biggest mine on the African continent, and 7th largest producer of silver in the world. It is also home to a 5-year long fight, as a group of protesters has been living on Mount Alebban, protecting the village's groundwater. The struggle in Imider incorporates principles such as radical democracy, decentralized decision-making, and gender equality. In Taranto in Italy, a steel plant owned by Ilva Industry has caused high levels of pollution. This has led to an ongoing struggle by the community to protect both their health and the health of the environment.
18.30 song workshop: part 2, concert
21.00 concert at Zieglerstrasse 9:
K0DE (solo set / acoustic powerwave)
Basseville (psychedelic stoner garage)
Syndrome WPW (violence and synths)
Sunday
10.00 Brunch
12.00 -13.30 presentation : Gaza
Resistance from Haifa to Gaza
From Haifa to the West Bank and Gaza, activists are resisting state oppression, Apartheid and the colonial character of Israel. For over a decade the Popular Committee Against the Wall has been organising weekly protests in villages throughout the West Bank against the Israeli Apartheid Wall, land grabs and the occupation. The Anarchists Against the Wall (AATW) have participated in hundreds of Palestinian-led demonstrations and direct-actions. And the revolutionary movement Gaza Youth Breaks Out are saying: "We are so fed up with Israel, Hamas, the occupation, the violations of human rights and the indifference of the international community! We want to scream and break this wall of silence, injustice and indifference like the Israeli F16's breaking the wall of sound." Activists from different groups will talk about their common struggles and the oppressive measures which the State of Israel takes to suppress the anti-colonial activities.
14.00 – 15.00 calligraphy workshop