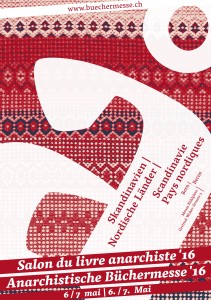 Friday 6 May ( good beer, books and great gypsy music):
18h – 23h30: Bookfair, reading corner and bar
From 19h30: Opening event
From 20h30: Readings
Scandinavian worker literature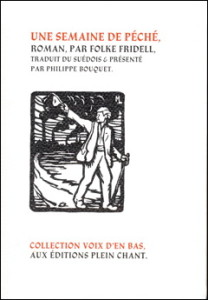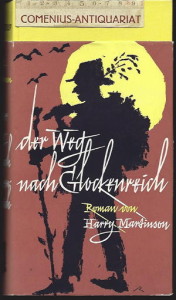 Presentation and readings of texts from the book "Refuser de parvenir, idées et pratiques" (The refusal to succeed, ideas and practices) a collection of texts assembled by the CIRA Lausanne
21h30:  Gypsy pop
Saturday 7th May:
Bookfair: 10h – 18h
Presentations/Workshops:
All events and presentations will be translated in French, German and English.
10h30 – 12h30:
Sweden: Undocumented migrants and labour struggle – Casa d'Italia
Amalia Alvarez
In recent years a self-organised autonomous labour movement has developed in Sweden, with up to a 1000 undocumented workers joining the struggle. Amalia Alvarez tells the story of the beginnings of this self-organised autonomy and talks about many subjects including: cultural differences in organisation methods; a traditional form of direct action called "registro"; the struggles that have been won; the internationalism of the movement; the criminalisation of "registro" by the press; successful direct actions; the recruitment process that resulted in an organization consisting of more than 1,000 workers; the criminalisation of the movement by the anarchist trade union SAC and the press; and the situation of undocumented workers in Sweden after the exclusion.
This experience is also told in comic book form (in Swedish-Spanish and English): "Cinco historias de mujeres indocumentadas" (Five stories of undocumented women). The questions arise- How was it written? How was the experience of worker struggle turned into a book?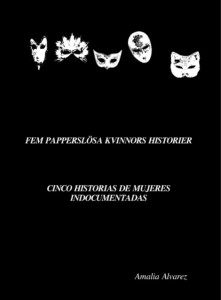 Book presentation: Riots in Sweden: the fires and their consequences – Restaurant Warteck
From May 19, 2014, after the assassination of a Portuguese immigrant by Swedish police, intense rioting broke out in Hubsby, a poor, mainly immigrant, suburb. The riots spread to several neighbourhoods, with hundreds of cars torched, police stations attacked and pro- rent reduction graffiti sprayed. These events went largely ignored by the European press, rather surprisingly since the Swedish welfare state is often presented as perfect. Zaschia Bouzarri puts these events in historical perspective and explains their societal foundations.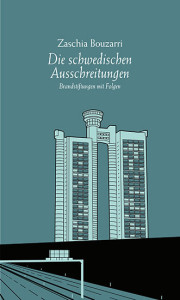 13h00 – 15h00:
Anarchism in Finland: the March 1917 revolution – Casa d'Italia

The February/March Revolution inspired a strong anarchic spirit despite the best attempts of socialist leadership. Strikes and riots multiplied, and crowds took direct action, expropriating much needed food and pushing for popular reforms. Three key factors and figures will be discussed: Arvid Järnefelt, "a Tolstoy of Finland"; Jean Boldt, an eccentric revolutionary and a declassé lawyer, and finally the mobs of rank-and-file workers and lumpenproletariat who took initiative for themselves.
Denmark: Ungdomshuset. The struggle for autonomous spaces – Restaurant Warteck

The story of the fight for the Ungdomshuset (Youth House) in Copenhagen. Followed by a discussion about autonomous spaces and alternative/social centres with various Swiss activists participating, including from AkuT in Thun.
15h30 – 17h30 :
Anarcha-feminism in Norway + "Rhetoric for radicals" Workshop – Casa d'Italia

Part one: a talk about anarcha-feminism in Norway, starting with a short
intro to Norwegian politics and the current feminist/activist landscape.
Second part
Part two: Practical workshop on "Rhetoric for radicals" exploring ways of speaking in public  and communicating radical messages more efficiently. A workshop on communication, interview techniques and voice control based on experience gathered from feminist radio, communication studies and activist groups
Stop Fennovoima !
Protest camp against Fennovoima nuclear power plant – Restaurant Warteck

The camp started in April 2015, when Fennovoima-Rosatom started
"preparing works" at the Hanhikivi peninsula, Pyhäjoki in Finland. When the clearcuts and landfills started advancing – we moved in.
A long campaign of civil disobedience followed. In September the
original camp was evicted and a new one created in another site.
Saturday night:
Concerts! at the Blokk, Allmendstrasse 2, Bern
Doors 21h, Concerts 22h
Abrassiv (postpunk, CH)
Les vaches laitières (punk + cows, CH)
Cousin Boneless (folkpunk, US)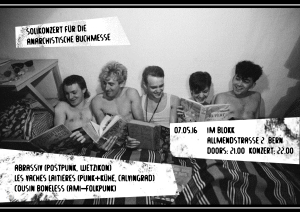 Sunday 8th May:
Vegan Brunch and Kubb tournament in the patio of Unitobler, Lerchenweg 32, Bern