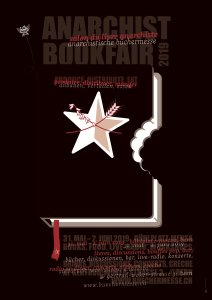 THEME: produce, distribute, eat
This year the bookfair workshops and presentations will take place in several different places, so please check where each event is!
Child care will be available all weekend.
All food will be vegan.
Friday
17.00 – 23.00: Bookfair
17.00 – 22.00: Crèche
18.00 – 19.00:

Book Presentation: Agriculture without animal exploitation
The reason agriculture and rural social movements have so much revolutionary potential is because they have resistance and autonomy ingrained in them. This allows them to take control of the fundamental means of production of all that we use for food, shelter, clothing and medicine.
But how can we meet our basic needs without being exploited, exploiting other humans or animals or destroying ecosystems?
This text will therefore focus on the practical, social and political feasibility of agriculture without animal exploitation. This subject is largely unknown and often ignored and under-referenced. All this despite the fact that plenty of both practical and theoretical data is readily available that shows that, on arable land, livestock farming is not necessary in order to produce the food we depend on!
And just to be clear, from an anti-domination perspective we cannot and do not want to reform livestock farming. Whether it happens in factories or in the garden, whether the goal is commercial or with self-sufficiency in mind; a cage is a cage, whatever its size, its shape or chain length.
19.00 – 21.00: Dinner
20.00 – 21.00:
Book presentation : An Oasis in a Desert of Order
Cook together, eat together? For more than 20 years the SchülerInnenKoordination SIKB (students coordination) distributed free meals in Bern – the Gassenküche. The book Oase in einer Wüste der Ordnung (An Oasis in a Desert of Order) lets those activists have their say. Short extracts will be read during the book presentation and former activists will talk about their experiences and answer any questions. The issues the Gassenküche was built around (public space, repression and policies on drugs, expulsion law or now the police law) are still hot topics and will form part of the open discussion following the presentation.
21:00 – 22.00: Concert NÂR (Drone / Cosmic loops / Gnawa)
Saturday
10.00 -21.00:
Bookfair
EXHIBITION : GMO, still under pressure
Live radio
Screenprinting
10.00 – 20.00: Crèche
12:00 – 14.00: Lunch
11.00 – 13.00:
WORKSHOP: Autonomy and forest gardens
Growing and harvesting food is important for resilience and longevity in any autonomous project. Forest gardens are man-made ecosystems that mimic the ecological patterns of a natural woodland. It is meant to produce as much diverse produce as possible, for as long as possible. North-facing balconies, raised beds, squatted zones, abandoned land can be transformed according to our needs. In this workshop we will look at how to set up and maintain our own easy-life, no-dig, and versatile forest garden.
ROUND TABLE: Community Supported Agriculture
Autonomy, collectivization of the means of production and self-regulation in agriculture: a practical vision with three different CSA projects. How do the three projects try to implement these anarchist elements and what challenges do they face? How can solidarity and ecology be part of agriculture? After a short introduction of the CSA projects, these questions will be discussed at round tables with the participants.
14.00 – 16.00:
PRESENTATION: GMOs and Technology in Agriculture
Today's agriculture is defined by the monopolisation of both seeds (whether genetically modified or not) and technical solutions intended to make farmers' lives easier.
What does such a concentration of power mean for the kind of autonomous communities we hope to build? What developments in genetic engineering and agricultural technology can we expect to see in Switzerland? How will these developments be promoted?
This presentation will try to answer these questions and encourage a constructive discussion about possible solutions.
WORKSHOP: Medical plants
We are surrounded by plants, many of which have medical properties thanks to various active substances. In this workshop you will have the opportunity to learn about and identify some of the most important active substances and to gain an insight into their healing powers. We will also discuss other issues such as how to gather plants, preparing herbal medicines, and storage.
PRESENTATION: The 15th Garden – a revolutionary network for food sovereignity in Syria
The 15th Garden is a bottom-up network of urban gardens in cities that have been bombed, besieged and blocked in Syria. The network includes family gardens, farmers in rural areas, and agriculture initiatives in refugee camps in neighbouring states.
The network has developed fast during the past years. The involved farmers, gardeners and activists are not willing to stay passive while what they call the biggest humanitarian disaster of recent history is taking place. The farmers' movement with its practical skills is ready to stand by all the people who are affected by the war.
Via the 15th Garden open pollinated seeds are swapped and reproduced in and around Syria, skills for sustainable agriculture and gardening are taught in workshops and courses, and knowledge is shared about the dangers related to the promises made by agribusiness actors. Commonly and without sectarian division a movement of food sovereignty is created and defended. The 15th Garden is increasingly important for the Syrian civil society, the still living part of a revolutionary will for change.
DISCUSSION: Working in the fields
Long working-days, hard work, low wages: the labour conditions in agriculture are mainly bad, legal protection is weak. Some live and work in Switzerland, others have to undertake long journeys to get to their seasonal work place and in winter go to the countries to stay with family and friends.
And big parts of the population profit of these conditions, but mainly it is big enterprises and supermarkets.
Here we want to talk about our experiences and discuss the labour conditions. The aim is an exchange on organisational opportunities for agricultural workers*. How is the labour, what are the difficulties?
What do we need? And what do we need to do? Also we wish for an exchange on examples of alternative labour organising in the food industry.
Are you working in agriculture or are you interested in questions of organization?
How can we get the capacity to act in solidarity? You are invited to share your experiences and your dreams with us!
16.30 – 18.30:
WORKSHOP: Anarchism = Antispeciesism
What you're an anarchist but not an antispeciesist ? What, seriously?!
From vegan collective kitchens to more and more friends becoming antispeciesists, animal exploitation is increasingly being called into question in anti-authoritarian spaces. Although it's frequently the subject of heated debate, it's often only the practical issues that end up being discussed, with the truly fundamental points left untouched.
This discussion will take the form of an interactive workshop, and we will explore the clear links between anarchism and antispeciesism together.
WORKSHOP: Is it hunger or a lifestyle choice?
Health food, cervelat, organic, vegan, chocolate, fairtrade, freegan, avocado. Is it hunger or a lifestyle? – Trying to eat an anticolonial diet.
We will go on an interactive journey through the world of food. When were certain foods included in our diet? What grows in our fields? We will try to replace the madness of a global food network with locally grown food !
PRESENTATION: SOS Rosarno
In January 2010 the so-called revolt of Rosarno showed the whole world the inhumane conditions in which the tomatoes and oranges which end up on our tables everyday are harvested. In response to this the first campaign « SOS Rosarno – citrus fruits and oil to feed sustainability and rights » was launched, involving small producers. This evolved into the project SOS Rosarno, which unites small producers and consumers, Italians and migrants.
19.00: Anarchist choir of Lausanne concert
20.00 : Dinner
22.00 – 01.00: DJ night at Zieglarstrasse 9
Reggae, Soul, Ska, R'n'R, Rockabilly, Psychobilly, Italo
Selecters: Lucky Lulu Belle // Hans Friedensbruch // Joe the Bossless
Sunday
10.00 – 13.00: Brunch
10.00 – 16.00: Crèche
11.00 – 13.00:
WORKSHOP: Questioning our practice of autonomy
In this workshop we would like to share thoughts and visions around building up an autonomous food supply and creating food production structures using concrete examples. Our aim is to become conscious of the contradictions and challenges which arise whenever we try to build up and defend food autonomy within the limitations of a capitalist world.
WORKSHOP: Hangry Zine project
Presentation of the Hangry Zine project, followed by a creative workshop on body image and body normativity.
Our daily life is full of norms, and even though many norms are called into question in activist circles, body norms are all too rarely an talked about. During this workshop, you are invited to talk about this topic any way you like – collages, poetry, texts, drawings… At the end, you can keep what you did for yourself or share it (anonymously) with the other participants.
We provide materials for handicrafts, writing and drawing as well as inspiration for writing.
A little infokiosk with zines and books will be made available.
13.00 – 15.00:
ROUND TABLE: Collective Farming: What, why and how?
A round table discussion about collective farming projects. Moving to the countryside and embracing an autonmous way of life is a dream for many. It is, however, often complicated to put such a dream into practice – it can be hard to start a collective and keep it going, to deal with state regulations and to survive economically. Several collectives have been invited to talk about the many practical aspects of collective rural life.
This discussion is for everyone who ever had any questions, urges, difficulties or dreams about living and farming collectively in the countryside.
15.00: Final meeting – open for everyone
Places:
Furia : Fabrikool, Fabrikstrasse 16
Gertrud-Woker–Mensa : Gertrud-Woker-Strasse 3
Casa d'Italia : Bühlstrasse 57
Von Roll lounge : Fabrikstrasse 8